About Us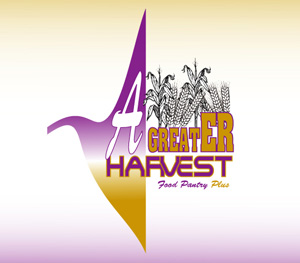 A Few Words About Us
A GREATER HARVEST, Food Pantry PLUS (AGH) is a New Jersey - based non-profit organization that seeks to eradicate poverty & hunger by distributing food and other essential items to people in need. Born out of the ministry of Jehovah's Circle and led by Kathy Davis (President and CEO) and Community Volunteers, AGH's mission statement summarizes both the heart of the volunteers and the goals of the organization: Together we are wiping out famine with a greater harvest by distributing more than enough to meet the needs of the people.
Since 2003, A GREATER HARVEST has provided over 421,000 meals to families in and around Newark, NJ. AGH is an EMERGENCY FOOD PANTRY with a diverse intake structure that includes the homeless, elderly, disabled, unemployed, and underemployed who need assistance to make ends meet. People who want to receive food and additional necessities can be referred by volunteers (to include internal, Red Cross, hospital social workers, etc.), intakes, agencies or apply online as well as on-site (with proper credentials) by submitting an application for assistance. As the number of families that we support grows, intakes are welcome to go to our distribution location to receive packages bi-weekly (unless notified otherwise).
What is the "PLUS"?
Because A GREATER HARVEST works to eradicate ALL of the effects of poverty with the providing of essential needs to its community, which not only includes food, but the "PLUS " of hygienic products, cleaning supplies, clothing and housewares which are often sacrificed in favor of more important priorities such as food and shelter. These extra provisions are necessary to the reestablishment of personal self-importance that comes with the ability to take care of oneself. Shampoo, deodorant, and supplies to keep a clean house, not only improves one's self image and hygiene, but promotes a sanitary environment which can lead to improved health and well-being.
PLUS we are also DISTRIBUTORS. Not only are we "Givers of Goods", but we support other food pantries, shelters, and other organizations that are also fighting to eradicate food insecure communities.
MISSION STATEMENT
Together we are wiping out famine with a greater harvest by distributing more than enough to meet the needs of the people.

GOAL
A GREATER HARVEST is planning our restructing and expanding our capabilities in 2019 to support our local communities and the state of New Jersey (approximately 946,114 families) with enough food for a minimum of 30 meals each month and with additional hygiene and cleaning products to enable them to live in a healthy, clean environment. This ambitious undertaking requires us to increase our current output by quadruple and requires us to expand our workforce, volunteer numbers and our number of contributors. With this goal, we hope to strengthen communities with a sense of well being as well as provide a healthier quality of life for families. This new initiative is designed to create a food pantry that will serve all of the cities/counties in and around Essex County, New Jersey and to become a viable resource for the state of New Jersey as well as world outreach.