Welcome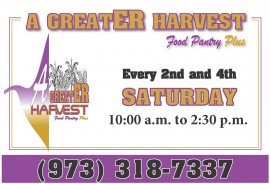 A GreatER Harvest… food pantry PLUS welcomes you to the 'mission of feeding those in need'; where we provide an abundance of food, nutritional and hygienic products as well as clothing, cleaning items, and more!
News

Next Distribution Date
TO BE ANNOUNCED
(food)

On February 9th, what was sure to be a disastrous day; the blizzard did not prevent A GreatER Harvest from distributing food to families. This was our last distribution at our previous location and we wanted to go out with a bang (lots of food)...and indeed it was!  If you were there, I am sure you can attest you received more than enough food! Thank you to our staff and volunteers for helping to make that day a success. Special thanks to the intakes who shoveled a pathway for us to get into the building! Happy Harvest!

A GREATER HARVEST... MAKING A DIFFERENCE!.
» More News